Syncronos Design Inc.
What we do and who we are
Syncronos Design promotes the use of appropriate technology and sustainable design in our built environment. We emphasize the balancing of materials and user requirements with environmental considerations.
Our main emphasis is currently on education about sustainable living and energy efficiency. Our Building With Awareness web site, video, and book on green building is part of this venture.
The company was founded by Ted Owens and Rick Perkins – childhood friends from Junior High School. They shared a common interest in motorless flight – sailplanes, hang gliders, paragliders, and radio control sailplanes. If something could be powered by human power, wind, or solar heat, they would be drawn to it. Their interest in alternative design solutions to common problems helped to form the company.
The business had its first office and small machine shop in Hermosa Beach, California. The interest in doing more with less was furthered with work on solar ovens for both developing countries and here in the US. Solar ovens cook and brown food using only the energy from the sun. Much of their work in this area was for nonprofit organizations. In the early 90's, Syncronos Design designed and manufactured the first cylindrical solar oven that was commercially available. In 1990, the business moved to Corrales, New Mexico, where an abundance of solar energy existed along with innovative building technologies. In New Mexico, solar ovens were manufactured for a couple of years, and later, design work began on energy and resource-efficient houses.
Working to solve the world's ecological problems is sometimes a daunting task. Fun is also an important element of design and humor may even be good for the planet. Several years ago, Syncronos Design teamed up with You-Betcha Interactive on a software CD-ROM. The two companies jointly developed the children's creativity software "The Home Gene-Splicing Kit", which was awarded the top honor in the industry as "Best Entertainment Software of the Year" in 1999 by the NewMedia Invision Awards. The software allows one to splice a photograph of yourself with your dog, cat, best friend, or anything with a face.
Syncronos is a conjunction of the words "sync" (in tune with) and "chronos" (time).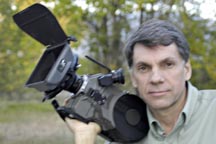 Ted Owens is president and co-founder of Syncronos Design. At an early age he developed strong interests in design, film, and environmental projects.  Ted is a graduate of Art Center College of Design in Pasadena, California, where he received a BFA degree. Since graduating, he has worked as a design generalist where he has combined his interests in design, appropriate technology, and film and video. His work has included designing permanent interactive exhibits on the environment for The California Museum of Science and Industry, to developing solar ovens. Additional work has included designing and directing award-winning video and multimedia documentaries and projects for major corporations. Since 1996, his main focus has been on energy and resource-efficient building design—emphasizing the combination of high technology with low technology to create an aesthetic package. He designed and built his own straw bale home which is documented on this web site.
Currently his time is spent directing a feature-length film on sustainable design and energy efficiency.
Anneliese Varaldiev's primary role is that of videographer. Anneliese worked for French television as a camera assistant, assistant director, and "best boy" (lighting) on documentaries about Martin Scorsese, David Lynch, and Orson Welles, among others. Her work in the commercial sector has included directing, and shooting more than 30 promotional and training videos for the aerospace industries. Anneliese's work as a portrait photographer has been exhibited in a number of museums, including the Los Angeles County Museum of Art, Musée d'Art Moderne, Vielle de Paris and the Winterthur Fotomuseum in Switzerland. She is currently working on her first book project, a series of portraits depicting noted classical musicians, conductors, and composers.
Rick Perkins is the cofounder and previous co-owner of Syncronos Design. After graduating from the University of Southern California in television and film production, he worked on the hardware side of film special effects on feature films. Since then, Rick has been working as an inventor/engineer with extensive experience in materials and manufacturing techniques. He has designed and engineered cameras, product prototypes, and large trade show displays. He currently freelances in California.