BuildingWithAwareness.com Store
HOW TO PURCHASE
Select from below and order online with your credit card using our secure system or with PayPal. If you are using American Express, please use the PayPal option. You do not have to be a PayPal member. We ship around the world. You can also purchase "Building With Awareness" from your local bookstore.
MAIL ORDER
click here to get a mail-in check or money order form
(US ORDERS ONLY. For the DVD/Guidebook combo and the DVD alone)
DELIVERY TIMES
Media Mail is the least expensive way to ship within the U.S. During the holidays, it can also be very slow and take 1-2 weeks or more to arrive. Priority Mail should arrive within 3-4 days. You can review various shipping metnods and prices before committing to the order. International orders commonly arrive in the country within 5 days. It may then take an additional week or more to go through customs of the country being shipped too. Great Britain and Canada are usually fairly fast.
---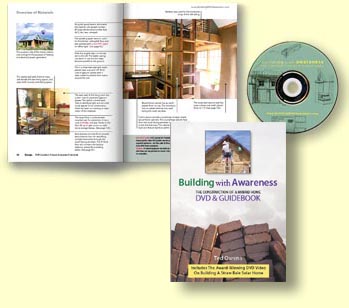 Building With Awareness: The Construction of a Hybrid Home Guidebook
List Price $18.00 (coming soon)
• The DVD is no longer available. See streaming options below.
• 152 page book with 400 full-color photographs and diagrams. Cover Size: H 7.5″ x W 5.375″.
• Shipping prices start at $3.60 depending on location and selected delivery
AVAILABLE ONLINE SOON – Please check back soon for availability

---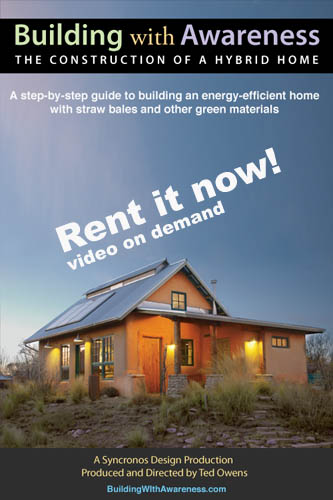 Building With Awareness: The Construction of a Hybrid Home
Video now available to stream for FREE
Watch it now streaming on your computer, tablet, phone, or television for FREE!
Running time is 2 hours 42 minutes. It does not include the second audio track with additional commentary or any of the other bonus material on the DVD.