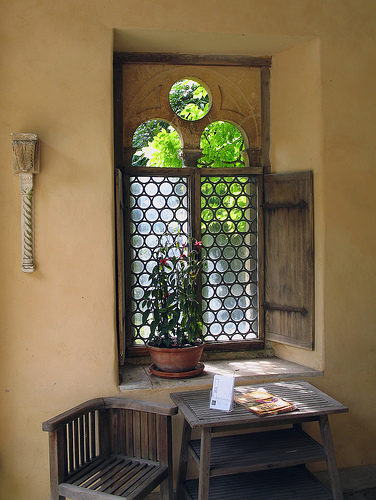 Do you want a hole in the wall for a window, or a place within the room to relax? Literally and figuratively, this decision is an opportunity for adding depth to your living space. Straw bale walls are thick, something that would be prohibitively expensive to achieve with most other building materials. Thick walls have the capacity to create spaces that are both separate from, and part of, the larger room.
This window space is not in a straw bale house, although the effect would be the same. Iford Manor was the home of English architect and garden designer Harold Peto (1854-1933). This window has become a place within the larger room, defined by its own walls, floor, and ceiling. The depth of the side walls reflect a soft warm glow deep within the room—something that does not happen with a typical 6-inch-thick wood frame wall. Honey-colored walls, which are probably a lime plaster, have a subtlety of hues and values that wall paint can only dream of.
It is the window detailing itself that truly makes the space. The woodwork continues the plane and boundary of the room, thus making a soft divide between the inside and outside. Solid glass alone would be harsh as the interior would just fall into a bright void. The dappled pattern softens the contrast ratio between the indoors and outdoors while still permitting a view. The opening is divided both vertically and horizontally, and those spaces are further subdivided into circular patterns of light and dark. It is this multilayering of detail that adds visual interest. The transitions from surface to surface are soft—soft angles, soft edges, and soft lines. This gives an inviting feel to the space because the window was thought of as a place.
post: Ted Owens
photo: Neosnaps
Please follow and like us: