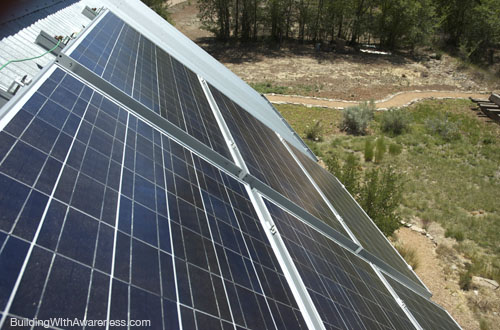 PV solar panels mounted to a pitched metal roof of a straw bale house. The "real world" output of a PV module can be much lower than what is stated by the manufacturer.
Photovoltaic panels generate clean power by converting sunlight into electricity. This article will talk about the actual—verses the rated—power output of photovoltaic panels. Do not assume that a PV panel rated at 170 watts of power will actually give you that amount. It will probably be closer to 150 watts per panel. Because of the difference, care must be used when sizing the system for your electrical needs. Otherwise, you may find that you are generating less power than you need.
Designing a photovoltaic system for your green home starts with using energy efficient appliances and lighting inside the house. My rule of thumb is that it is cheaper to buy a new EnergyStar-rated refrigerator for under $1,000 than to spend an extra $2,000 on photovoltaic (PV) panels to power an old, inefficient refrigerator. The same goes for other appliances—particularly those that get a lot of daily use such as televisions.
The photovoltaic system for my small straw bale home (featured on the BuildingWithAwareness.com website and DVD video) cost around $12,000 in equipment. Without carefully choosing the most efficient appliances and  lighting, the cost would have been dramatically higher. 
After you have had made everything inside the home as energy efficient as possible,  you can start to size the photovoltaic system for your needs (this will be covered in a future post). Photovoltaic panels are rated by their theoretical power output in watts. Theoretically, a square meter of sunlight generates 1,000 watts of energy. Due to the inefficiency of current PV solar panel technology, the typical PV module output will be about 18% of that. To make things more confusing, the manufacturers rated output of a module will not be what you actually get.
So how do you find the true output of various commercially-available PV panels? Fortunately, the state of California has posted a chart that paints a truer picture. Manufacturers use the STC (Standard Test Conditions) rating system, which tends to exaggerate the power output towards the high end. What is desired is the knowing the wattage using the PTC (PVUSA Test Conditions) rating system. Although not perfect, it gives the potential PV customer a much more realistic estimate of power output per photovoltaic module. Here is the link to the Go Solar California web page (a joint effort between the California Energy Commission and the California Public Utilities Commission). This chart lists PV modules by manufacturer, model number, and type of panel. This chart does not take into account losses from local atmospheric conditions, panel temperature (hot panels generate less electricity than cold panels), angle to the sun, etc. These loses will vary from installation to installation. It will help you get a more realistic idea of the cost-per-watt of generating your own electricity from sunlight.
http://www.gosolarcalifornia.ca.gov/equipment/pv_modules.php
article and photo by Ted Owens
director of the "Building With Awareness" DVD video and book on green building
Please follow and like us: