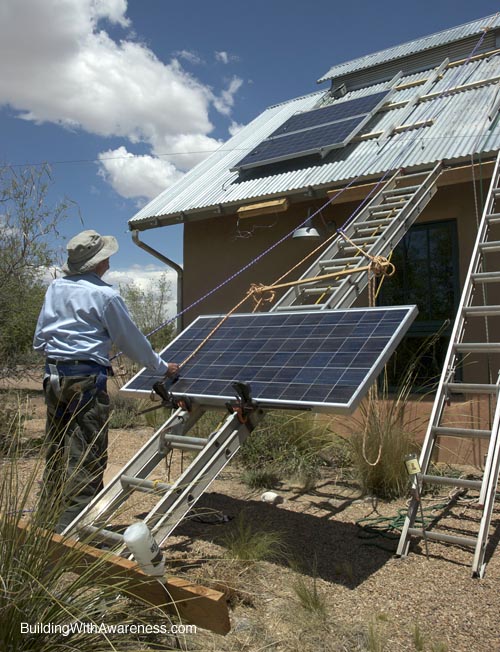 This article will show how to attach commercially available solar panel mounting brackets to a corrugated metal roof that lacked flat surfaces. In the photo above, a ladder was used to slide the PV panels to the roof.
Photovoltaic (PV) panels produce all of the electricity for this straw bale hybrid home from sunlight. All of the PV panels are permanently attached to the south facing pitched roof.  Standing-seam metal roofs are partially flat, so mounting a rack is not a problem.  The roof on my house is corrugated metal and therefore has no flat surfaces for the aluminum mounting brackets to seat.  A stout connection is essential for the photovoltaic panels to survive high wind loads and to create a waterproof seal where the bolts penetrate the roof surface. What we needed was a mounting platform that both comformed to the convolutions of the metal roof and also had a flat surface for the foot bracket to contact.
Here is how we solved the problem.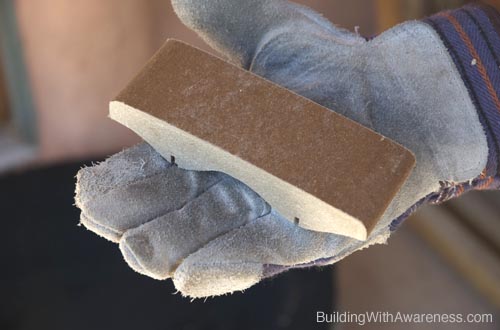 Plastic wood (such as Trex® that is sold for outdoor decking) was cut on a bandsaw to match the profile of the metal roof sheeting. The material was chosen for its proven durability and long life in outdoor use. This spacer made for a flat surface for the foot of the aluminum mounting bracket. As the bolts are tightened, the contoured custom spacer applies even pressure to the corrugated sheeting, so there is no denting or distortion. Due to the four-inch width of the new mounting platform (it was cut from a 2×4″ piece of artificial wood), there was now room to move the bolt location left or right in order to center it directly over the roof truss below the sheeting.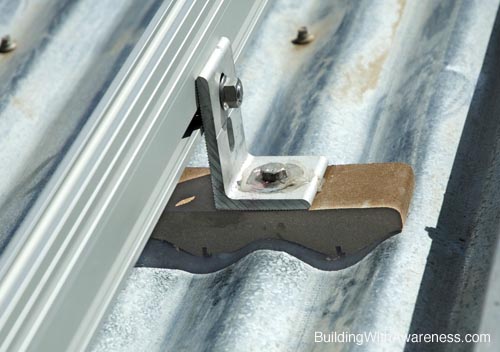 Note that a groove was cut into the base of the contoured mounting spacer. This prevents water from pooling on the uphill side. Ample amounts of silicone caulk were used on the bolt itself and around the bolt to ensure that water would not leak through the roof.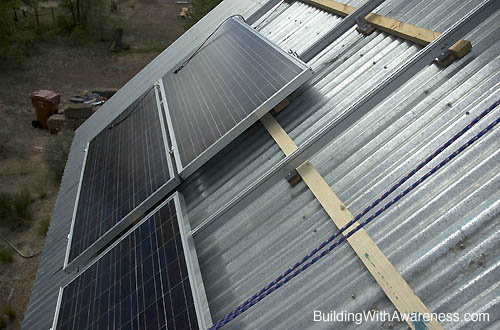 In this wide view, the vertical rails of the UniRack SolarMount® system can be seen resting on the custom plastic-wood mounts. The photovoltaic panels are then attached to the rails. The long 2×3″ strips of wood are used as a temporary foot rest so that one does not slide down the slick surface. They are slid out once the PV panels are in place and wired. For safety, it is essential to wear a rock climber's safety harness while working on a steep roof such as this. Below is a drawing of a cross-section view of the mounting system.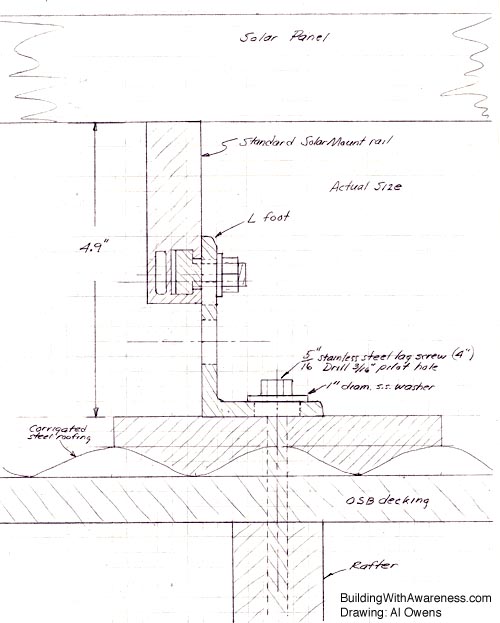 With the panels in place, this house will have all of its electrical needs generated by sunlight alone. Between the photovoltaic electrical system, the insulated straw bale walls, and the rainwater collected from the roof, this is a very green hybrid home.
Article and photos by Ted Owens
Drawing by Al Owens
This construction of this home is featured in Building With Awareness

Please follow and like us: